Are you looking to brighten up your living room? There are many approaches to bringing a fresh feel into a space — maybe you want to go big and completely change up the color scheme or furniture pieces. Or perhaps you just want to tidy up the area a bit and add new accessories?


Whatever upgrade you undertake, brightening up a space can make it feel more open and inviting. Additionally, the hues and accents you choose can make the atmosphere bold and dramatic or polished and elegant.


If you're ready to tackle major or minor upgrades, here are nine different ways to brighten your living room!
Repaint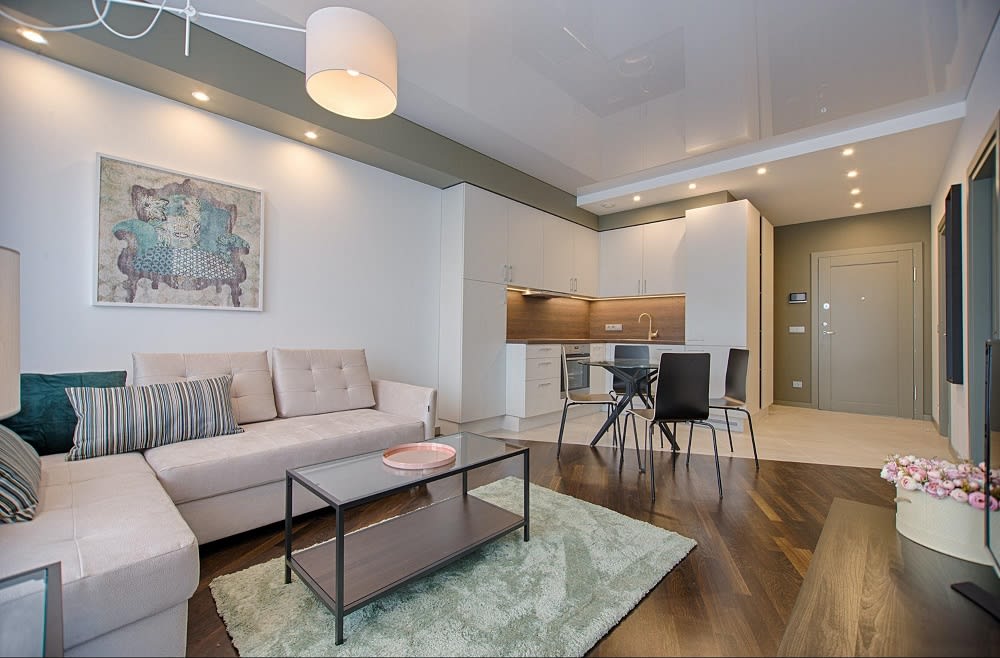 Light paint colors
are the best when trying to brighten up a living space. These soft hues bleed vitality into a room, yet they are still delicate. White is often the most common on walls, but light shades of gray, brown, caramel, and cream are great options. Depending on the decor, neutral hues can feel either elegant or warm. Light green, blue, and peach are refreshing and calming if you want color.
Repainting doesn't have to be for your walls alone! If your furniture has a darker finish, it can be painted over. Adding a fresh coat of white paint, for example, will instantly brighten up the space and make your furniture look new again. Other soft neutral colors also work nicely for repainting furniture.
Experiment with glass, metal, or acrylic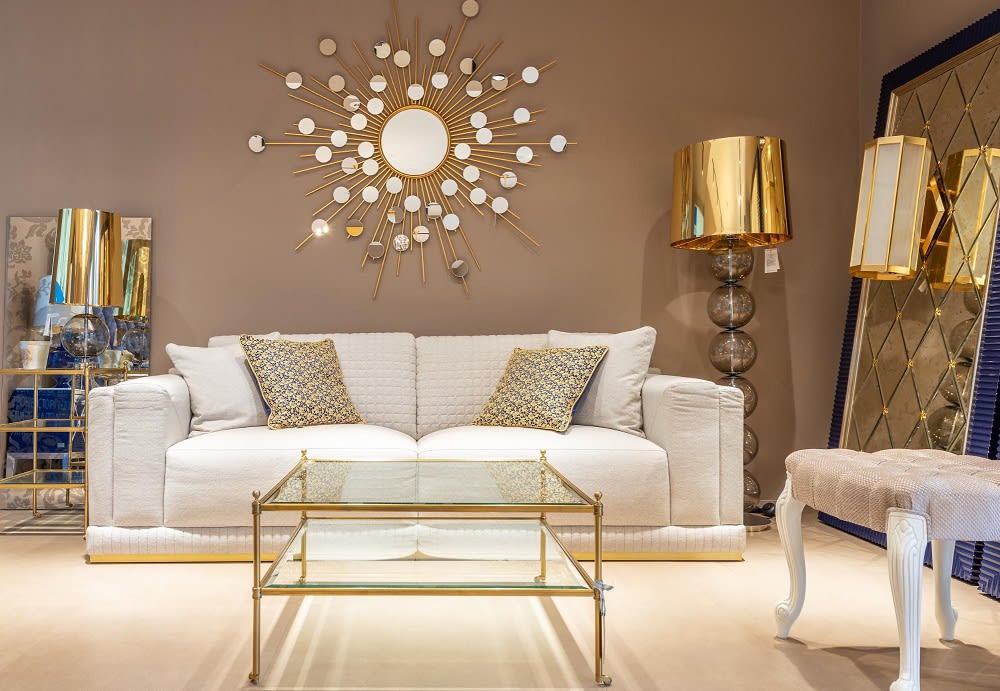 Glass, metal, and acrylic all reflect light, which will illuminate a room. Plus, these pieces can match any color scheme.
Glass and acrylic pieces
are versatile, clean, and trendy. Experiment with an acrylic table and notice how the accessories you place on top of it immediately stand out. Or, try a glass lamp to create airiness without taking up visual space.
Metal pieces and accents
can also brighten up a living room. A metallic coffee or end table has a gleaming effect. If you prefer something more subtle, try gold or silver accents. Detailed touches like metallic sofa legs, picture frames, and pillow stitchings are smooth and refined.
Tidy up
Organizing your living room
is a quick way to freshen up the space. Getting rid of clutter and relocating unwanted furniture helps you see the room's eye-catching pieces. It allows more light to flow through the area as well.
To make tidying up easier in the future, create space for living room items that don't seem to have specific storage. Things like remotes and books should have a particular area where they are stored, so your living room looks sharp. And if you find items you have no use for, it's okay to get rid of them. Doing so will brightly polish your living room in no time!
Employ white pieces or accents
Don't let the fear of dirtying white accents deter you from adding them to your living room!
White furniture and accessories
have a powerful brightening effect. Try adding larger pieces like a white couch, rug, or table to really perk up the space. Add white touches such as a lamp or some throw pillows and blankets if you'd rather start conservatively.
Even if white living room elements are out of your comfort zone, give them a shot! White is smooth, inviting, and crisp, which invoke airy and spacious atmospheres in any space.
Wash the windows and walls
Cleaning surfaces may not be the first thing that comes to mind when trying to brighten up your living room. However, washing your living room windows and walls can bring back their original sparkle. Dirty windows prevent natural light from coming in, while grimy walls make paint or wallpaper look dull.

Start by dusting the areas to remove any accumulated particles. Get a high-quality glass cleaner for spotless windows and ensure you don't leave any streaks behind. Use a soft, soapy sponge to gently wipe away smudges for good-as-new walls. Always consider your home materials as this can help you choose the proper cleaning materials.
Choose low, expansive pieces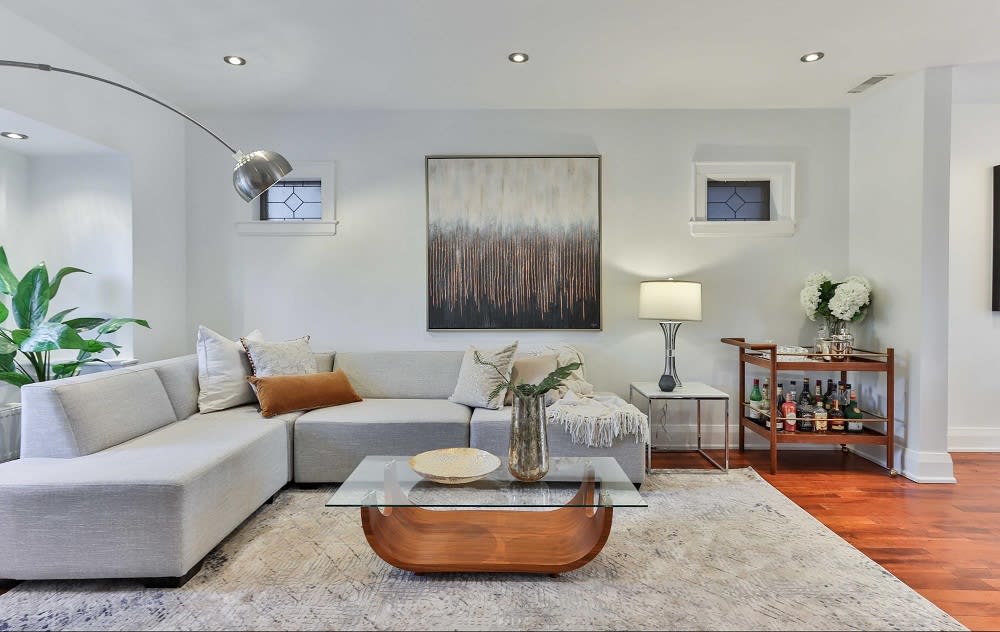 Furniture low to the ground and wide can make a living room feel more spacious. With more empty spaces, the
room will look larger
. If you have a smaller living room, this extra space will make a major difference. And if your living room is already large, the additional space will make it look even more grand and spacious! Low, expansive pieces also allow more sunlight to flow into the room, making it brighter.
Another way to let more natural light in is to keep your windows free of heavy drapes. If you want to maintain some privacy but don't want anything too distracting, try choosing plain, lightweight materials. You can ditch the curtains altogether as well! Leaving windows unadorned is a great way to open up your living room.
Add pops of color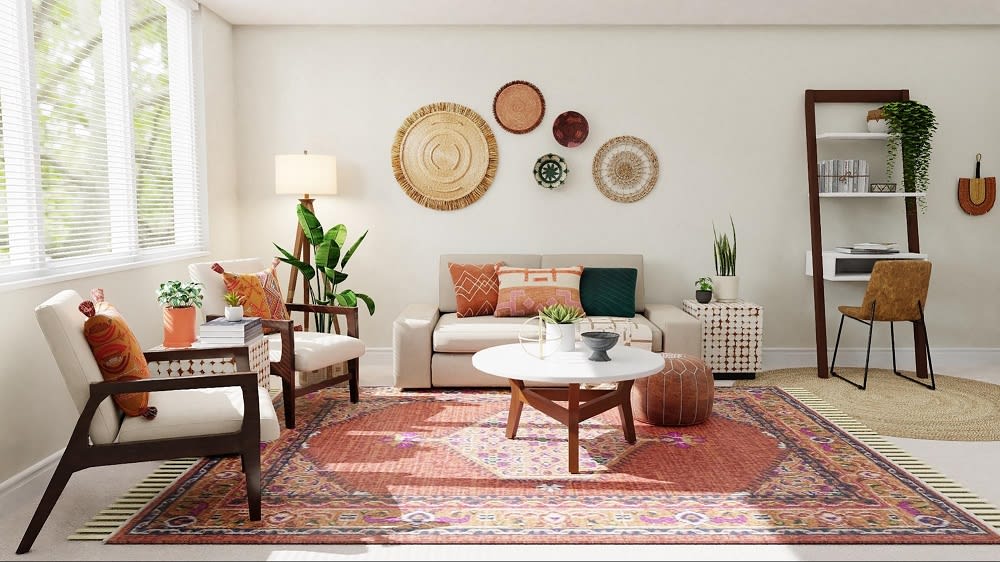 Adding pops of color
to your living room is a surefire way to freshen it up. Whether you choose to do a complete makeover or merely include accentuating elements, there are many ways color can breathe new life into a space.
You can paint just one wall or furniture piece for larger splashes of vibrancy. Or, maybe you want to try a bold rug or painting. You can add smaller bursts of color with pillows, blankets, and lamps. Plants and flowers bring beautiful hues into your living space as well.


Mixing up colors also provides contrast, especially if you have white in the room. White is the perfect neutral hue to balance bright colors, and a dash of color here and there makes a strong impact and will give your living room a cheery and welcoming vibe.
Harness the power of mirrors
Enhance your living room's light exposure and spatial appearance by
harnessing the power of mirrors
. An oversized mirror disperses light throughout the room and makes the space seem larger.
Mirrors come in all shapes and sizes, so they pair well with any theme. Some are simple and classic, while others are luxurious and ornate. Their positioning is versatile, so you're bound to find one that fits your living space. Mirrors can be hung horizontally or vertically and mounted on the floor. A spectacular living room mirror will add breeziness to the area regardless of your preferred style.
Accessorize wisely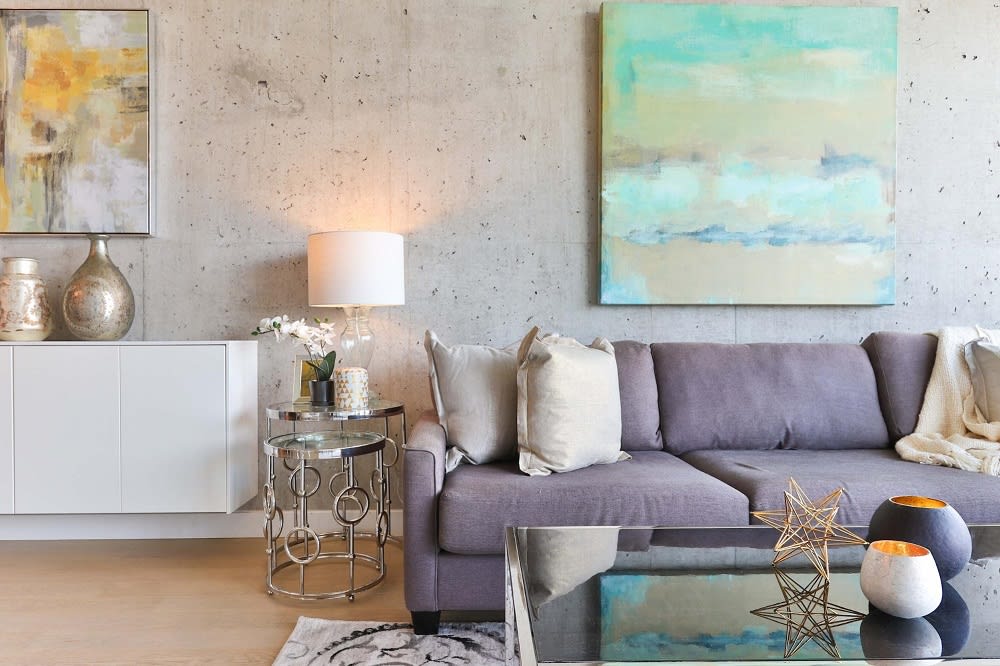 When it comes to decorating your living room,
accessorize wisely
. If you're already balancing neutral and vibrant hues, you need to ensure you're not overdoing it with your decor. When accessorizing, you want to guide the eyes through the room while still giving them a chance to rest.
Focus on contrasting accessories with your living room walls, couch, and rugs for a brighter look. This doesn't just apply to colors, but materials too. Throw pillows and blankets are must-have accessories, along with lamps and mirrors. You can also place a few smaller items like trinkets or greenery throughout your living space.
If you have a fireplace, consider installing a single shelf above it. Doing so provides symmetry while delicately adorning the fireplace. Then, you can place decor items such as candlesticks or picture frames on top of the shelf.
The Speed & Neuren Group real estate
Contact
The Speed
&
Neuren Group
if you're looking to buy or sell a property in Austin, Texas. Lindsay is a third-generation Austinite with in-depth expertise in the local market. She and her team of real estate professionals are known for their distinctive relationship-focused approach. So whether you're interested in Great Hills mansions, Downtown Austin condos, or Mueller luxury estates,
The Speed
&
Neuren Group
will help you find your dream property.

*Header photo Courtesy of The Speed Neuren Group