Whether you're looking to grab margaritas with friends on a Friday night or meet coworkers for some handcrafted cocktails over happy hour, Austin's bar scene has got you covered! This rustic-chic city is home to some truly incredible drinks served in a variety of beautiful outdoor settings. Read on to learn more about Austin's best cocktails that you can enjoy while soaking up the sun or partying under the moonlight this summer.
The Daisy -
Gin lovers will feel right at home at this rooftop bar on East Sixth! With over 90 varieties of gin from right here in Austin all the way to New Zealand, this is the place to try something new, fun, and exciting. Gather with friends around a fire pit and enjoy the cozy atmosphere as you sample a flight of botanical gins, or order one of the bar's fantastic martinis or gin and tonics.

​​​​​​​House cocktail The Daisy is one of Gin Bar's finest offerings. Featuring an agave-based Gracias a Dios gin, yellow Chartreuse, agave nectar, and lemon, this drink has a fun and flowery kick to it. Learn more about Gin Bar's fabulous handcrafted cocktails by perusing their Instagram account, which provides lots of information on the different types of gin they serve as well as any upcoming holiday celebrations and community events.
Five Dollar Milkshake -
One of Austin's best cocktail hangouts, Whistler's is known for its spacious and stylish patio, perfect for gathering with a large group. Currently, this trendy cocktail bar features a menu of drinks inspired by Quentin Tarantino's films, from the gin-based Stuntman Mike to the Twisted Nerve featuring house-infused hibiscus vodka. During your night out at Whisler's, you can also enjoy snacks from the food truck on the premises or head upstairs to the Mezcaleria Tobala, a cozy space modeled after a traditional Oaxacan mezcal bar.

​​​​​​​If you're looking for a fun summer drink inspired by Tarantino's work, you can't get much better than the fruity and delicious Five Dollar Milkshake. A stunning combination of Smith & Cross rum, apricot, vanilla, pineapple, and coconut cream, this cocktail will have you feeling ready for summer in no time.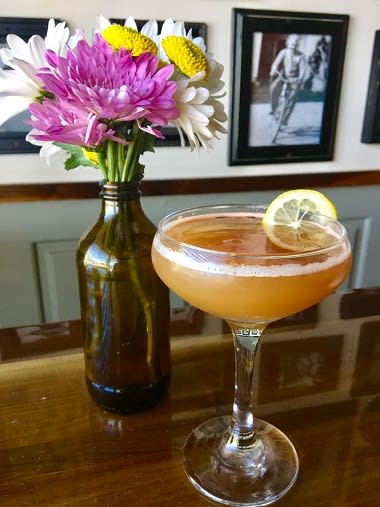 (Image Credit: The Wheel)

The Olivia -
Whiskey lovers rejoice! This chill neighborhood bar with a comfortable patio for outdoor dining is stocked with all the best whiskey you could ever want. Regulars often stop by to chat with The Wheel's knowledgeable and friendly bartenders, sipping on a classic Old Fashioned made to perfection. Bring your dog, kick back, and relax on the patio at this hole-in-the-wall spot where you can drink like a local.

​​​​​​​The Wheel's specialty cocktails are always a crowd-pleaser. Sure, you can order an Old Fashioned or beer on tap, but why would you when there are so many fantastic cocktails to try? The Olivia is one of The Wheel's finest offerings, featuring a 10-year Spanish brandy, Cointreau, freshly squeezed lemon, simple syrup, and Angostura bitters. With one of these in hand, you'll truly be drinking in style.


Almost Cola -

If you're looking for an Austin hangout with a rustic dive bar feel, check out these two fun locations on the East Side, located side by side. Both share a giant backyard packed with picnic tables to accommodate your group of friends, and drinks are affordable enough that everybody can enjoy! Both venues provide stellar live music while you're sipping on some handcrafted cocktails; Volstead features hip-hop DJs, while Hotel Vegas has more of a focus on rock garage bands. Happy hour is great here as well — you're in an awesome place to grab burgers with friends for a quick bite to eat as you start your night on the town.

​​​​​​​Check out Hotel Vegas's twist on a classic by ordering the Almost Cola, which features Bacardi rum, Fernet, Liber & Co. cola syrup, Angostura bitters, and Topo Chico. In addition to the patio's incredible menu of Austin-made ciders, frozen margaritas, and even Jello shots, you'll love trying Hotel Vegas's fun selection of handcrafted cocktails.
For Your Health -
It doesn't get more unique than sipping cocktails inside a converted laundromat! This sleek and unique spot on Austin's East Side features an amazing American and Mediterranean-influenced menu, so order lots of dishes to share with your group as you relax on the spacious outdoor patio. Launderette is super popular for brunch, where you can sip on a refreshing morning cocktail like the Tequila Spritzer, a Pamplemousse and Rose, and of course, the classic Mimosa featuring cava and freshly squeezed orange juice.

But it's Launderette's For Your Health cocktail that shouldn't be missed. Featuring a tasty blend of mezcal, carrot juice, pineapple turmeric syrup, spiced agave, and lime, this drink has a great kick to it that will get your evening started off right!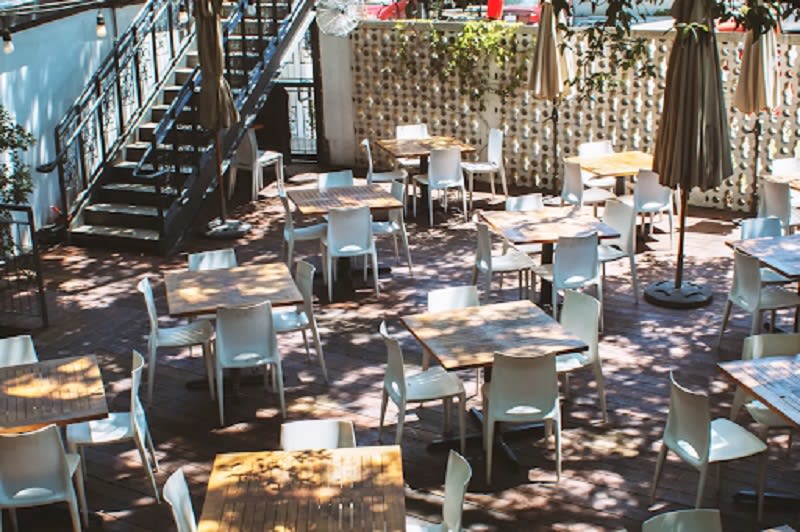 Cicero -

This upscale Italian spot in Austin's Rosedale neighborhood is possibly one of the city's most beautiful outdoor dining experiences. With a patio that spans three stories and wraps around a stately 200-year-old oak tree, you'll feel just like you're cozying up in the childhood treehouse of your dreams! Dine on some incredible house-made pasta dishes like baked rigatoni, spring ravioli, or the decadent braised beef pappardelle. There's also a fabulous and extensive wine list, so you're sure to find a glass that pairs perfectly with any main course you order.

Olive & June really shines when it comes to their stellar handcrafted cocktails. Start off the evening by sipping on light and sweet Cicero, which features a stunning combination of Limoncello vodka, dry curacao, benedictine, rosemary, and bitters.
Hot Apple Cider -

Located right off William Cannon Drive and South Congress, you'll find this cool and casual hangout spot that's quintessentially Austin. The huge backyard patio features plenty of picnic tables, a stage for live music, and some fun outdoor games like horseshoes and darts. The Little Darlin's menu is packed with all-American favorites like fried chicken sandwiches, burgers, and a delicious carnitas sliders plate topped off with verde mayo and pickled red onion.

The drink offerings at this fun bar and eatery are exciting twists on classic favorites, all perfect for partying with your friends. Order a Mimosa Bucket or Michelada to get into the party spirit! You can also warm up with Hot Chocolate with Marshmallows, made with either peppermint schnapps, Fireball cinnamon whiskey, Skrewball peanut butter whiskey, or Espolon tequila. One of Little Darlin's tastiest treats is the Hot Apple Cider, a warm and delicious blend of Flor de Cana Anejo rum and traditional apple cider topped off with a cinnamon stick.
First Blush -

This beautiful South Austin hangout spot has the feel of a friend's welcoming backyard, with hanging lanterns, cozy Adirondack chairs, and spacious picnic tables. Snack on summery treats like pickled shrimp, sweet potato pullman bread with pimento kimcheese, or Masa gnocchi served with spinach and mojo de ajo sauce. Referred to by Lenoir as "hot weather food," the menu's tasty fare is perfect for the warm Austin climate. Almost all their ingredients are locally sourced from Texan farmers, providing a unique and interesting menu that changes seasonally.

​​​​​​​Along with a fine selection of cider, beer, and wines ranging from sparkling to red to white, Lenoir offers some appealing house cocktails that make for a fun and festive happy hour. Try the First Blush, a fruity mix of Lillet blanc liqueur, grapefruit bitters, and Peychaud's Bitters, served with a twist.
Doc Brown's Zoomies -

Part neighborhood hangout, part dog park, and part cocktail bar, casually cool Yard Bar is an amazing place for animal lovers to relax! Located in Austin's Allandale neighborhood, this fenced-in yard space is big enough for get-togethers with friends and for dogs to play and exercise. Grab some shared snacks for the whole table to enjoy, such as freshly fried and breaded-to-order chicken bites, beer-battered fries served with your choice of sauce or a half-dozen Alaskan corn fritters. Don't worry — your furry friend won't feel left out. There are a bunch of dog-friendly items on the menu, including meatballs and gravy, whole wheat and peanut butter Good Dog Cookies, and Greek yogurt and peanut butter Good Dog Ice Cream.

Dog lovers will adore the canine-themed cocktails on Yard Bar's menu. From the Bark & Stormy to the Salty Pawloma, you'll love trying these fun handcrafted drinks while kicking back and relaxing with friends. Doc Brown's Zoomies features Austin's own Deep Eddy ruby red vodka, St. Germaine, lime juice, and mint simple syrup — the perfect refreshing drink after a long day at work.

If you're getting ready to sell your Austin luxury home or start searching for homes for sale in Austin, contact The Speed & Neuren Group today. With years of experience in Austin real estate, Lindsay and her knowledgeable and friendly team will be happy to help you sell your Austin home as well as browse Austin luxury homes for sale.