Preparing to design, decorate, or remodel your living space can be a stressful experience, but never fear — the trendy and artistic city of Austin is home to some incredible interior designers who are happy to work on your project. From whimsical kitchens to luxurious bathrooms, these lauded interior designers have been keeping Austin beautiful over the past few years.
Award-winning Austin interior designer and philanthropist Allison Jaffe got her start in the design world with a job at a contract furniture group just out of college. With a renewed passion for interior design, Jaffe went on to study art at Texas State University and became a registered interior designer with the Texas Board of Architectural Examiners. In 2010, Jaffe founded her own interior design firm and got to work remodeling kitchens and bathrooms, working with full house new construction, and furnishing gorgeous residential spaces. Allison and her team pride themselves on their holistic approach to interior design as they consider the potential of each space. They consider ways to maximize storage, streamline the home's flow, and let in plenty of natural light to create a space you'll love living in.
Jaffe has received over 20 interior design awards, including the ASID Legacy of Design and Design Excellence Awards. She was named a Design Excellence Rising Star by the American Society for Interior Designers and was recognized as an "Austin Under 40" finalist. While she's worked on countless design remodelings, some of her finest include a colorful and unique
Lakeshore
kitchen, with its stunning backsplash, and the relaxing Almarion bathroom painted a soothing green, which was the recipient of the 2015 ASID Legacy of Design: Traditional Bathroom / Powder Bath Award. Jaffe also transformed a heavily outdated Texas Tuscan
bathroom
with serious early 2000s vibes, converted the tub area into a walk-in steam shower, added a gorgeously extended vanity that looks out over a vibrant backyard garden, and finished everything off with elegant light fixtures.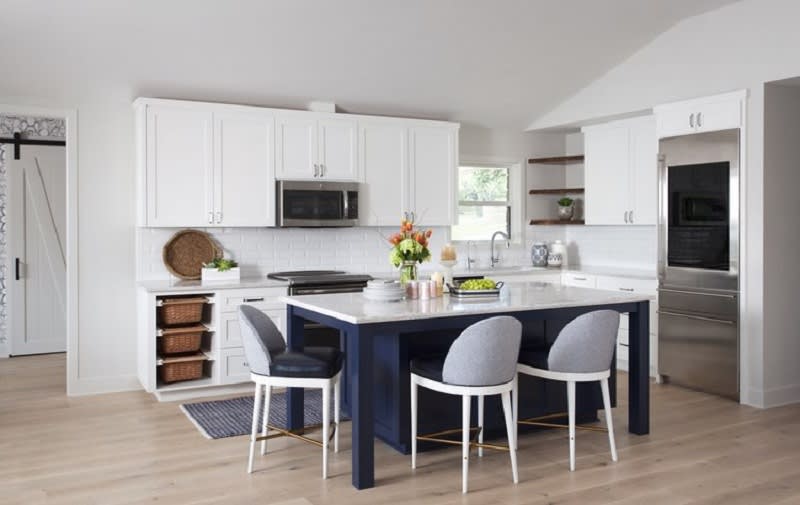 Credit: Natalie Howe
National NARI award-winning interior designer Natalie Howe is one of Austin's finest in the industry, having studied at both Texas A&M University and the UCLA Interior Design School. Today, she specializes in updating kitchens, taking them from outdated and organized burdens to eye-pleasing, efficient spaces. Howe has served as the NKBA (National Kitchen and Bath Association) secretary and a showhome designer for the Women's Symphony League of Austin . Examples of her fantastic work have been featured on MSN.com, the HGTV design blog, The Austin American Statesman, Austin Monthly Home, and Texas Home and Living.


While Howe jumps onboard a project during its design phase, she'll see it through to procurement and installation management. Her services include residential interior design and space planning, window treatments, custom cabinetry, lighting packages, project management, and many more! Howe's work on a Horseshoe Bay Lake House was perhaps one of her most notable, bringing home a bevy of awards in the 2017 HCBA Parade of Homes, including Best Kitchen and Living, Best Master Suite and Bath, and Best Interior Design and Decorating. The gorgeous lakeside home was completely redesigned and remodeled, with only the original footprint and square footage remaining.
This boutique interior design firm specializes in new construction and renovation all across Texas, but Austin is where they call home. Evensen Design is headed by Erica Volkmer, the Principal Designer who has worked on everything from a renovation of a historic Lakewood Tudor cottage to the designing of a downtown Dallas luxury penthouse. Volkmer began her education at the University of Texas at Austin School of Architecture, where she received a Bachelor's degree in Interior Design. She went on to appear on HGTV's popular show House Hunters Renovation, was named an Austin Top 10 Designer by Austin Architects and Culture Map, and earned the Best of Houzz for Design and Service Award. Evensen Design provides a variety of services from building to renovating to furnishing; with additional experience in custom furniture, there's no job too big for this fabulous design firm!
As Principal Designer, Volkmer focuses on creating clean lines and bright spaces that are embellished with a touch of luxury. Volkmer and her team bring a sense of professionalism and style to each project they undertake, using their vast knowledge of design to see a project from start to finish. Among Evensen Design's exquisite projects are the green and gold embellished
Camino Alto
home and the sleek and modern
Avalon
residential space.
For a full-service and interior designs that make a statement, look to Etch Design Group. This luxury firm creates stunning, personalized designs that you'll love to live in. Principal designers Stephanie Lindsey and Jessica Nelson are consummate professionals who started their company with a mission of turning their clients' visions into reality, crafting bespoke interiors that inspire, and create a lasting impression on everyone they meet.
From first blueprint to final product, Etch Design Group sees each project through from beginning to end. This highly-acclaimed firm works on full-scale remodeling projects as well as new constructions so that their clients can have their complete vision realized with their expert assistance.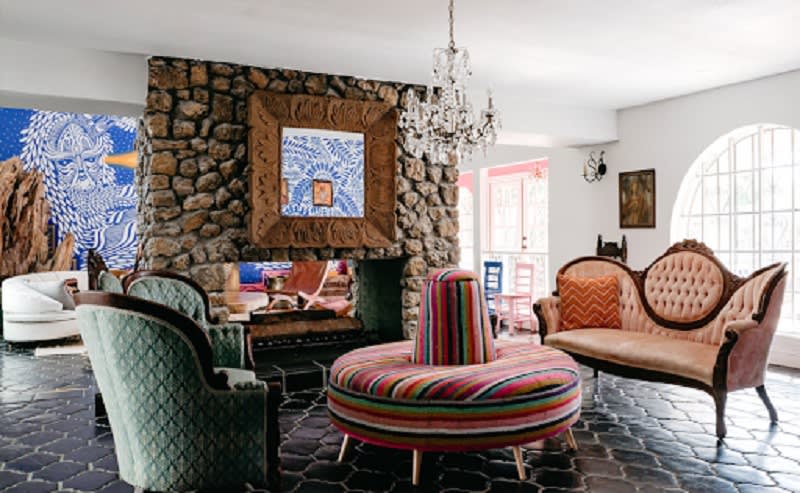 Credit: McCray & Co.
This Austin-based interior design studio is led by husband and wife team Chris McCray and Grace Hall, who both bring years of experience to the table. McCray started out as the founder of the Richmond, Virginia-based Chris McCray Designs in the mid-1990s before going on to earn his Master's degree in Industrial Design from RISD. He and Grace were inspired by their mutual passion for practical solutions and beautiful design, co-founding McCray & Co. in 2011. The firm strives to create welcoming and breathable spaces where people can feel comfortable and at home. Known for their remarkable restaurant interiors, McCray & Co. has been praised by Edible Austin as the "most creative minds in the local design industry"; indeed, their work has been featured in Tribeza, Dwell, Hunker, Spruce Austin, and on the Tribeza Homes Tour.
Together with their team, McCray & Co. focuses on creating one-of-a-kind residential and commercial interiors as well as furniture and lighting design. They also help their clients out with marketing, as they offer brand identity and graphic design services. In recent years, McCray & Co. helped revitalize popular patio bar and food truck experience Domo Alley-Gato Tatsu-Ya, locally referred to as "Domo." The remodel created a gorgeous Tokyo-inspired outdoor space with a charming seven-foot-tall lucky cat in the spotlight while the patio features fun touches like lanterns and cherry blossoms. They've also lent their residential interior design expertise to projects like
Casa Cartel
, an East Austin villa that was revitalized with Mexican artisanal work like custom lighting, furniture, and cabinets.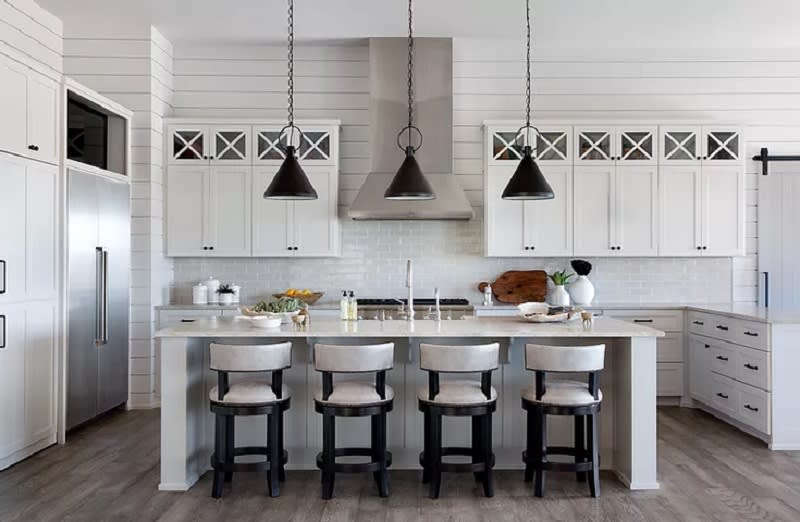 Credit: Blair Burton Interiors
Raised by parents in the design and building industries, Blair Burton formed a passion for interior design early in life. She studied under Karen Hall at Cohagan Hall Interior Design before launching an interior design firm of her own, Blair Burton Interiors, in 2004. Having designed homes in London, Houston, and Austin, Burton has years of experience with turning living spaces into comfortable and tranquil environments. Burton and her team will guide you through initial construction guidance, whether you need help with selecting lighting, finishes, hardware, or window treatments. The Blair Burton Interiors team is also skilled at curating beautiful pieces of furniture and decor that will make your house into a home! They also do full-scale remodels where almost everything in a property needs to be updated. During this process, the team will not only add new surfaces, colors, finishes, and hardware to your home, but they'll also work with professionals, overseeing their work every step of the way to make sure everything matches your vision.
Over the past decade, Blair Burton Interiors has become a notable boutique-style firm that focuses on collaborating with clients to create beautiful living spaces. One of Blair Burton Interiors' most notable Texas-based projects was a
Lake Austin Overlook
home. Newly constructed, this stunning abode offers sweeping views of the lake as well as Austin Country Club and the 360 Bridge. It was built to the clients' specifications, which included an open concept floor plan, white and black custom cabinetry, and a spacious Texas Hill Country kitchen with a modern twist. Solid wood beams, shiplap, stone, and gorgeous hardwood floors were added to make this stunning Austin home into a work of art that's also highly functional. Just outside Austin, Burton and her team worked on the
Hill Country Ranch
project, a gorgeous getaway located in a horse-ranch development. The stunning house was updated to fit a family's needs by adding wooden beams, a spacious open concept floor plan, steel doors, and plenty of natural marble and stone; this helped turn a dark and dreary space into a bright and relaxing oasis.
Ready to start decorating a new Austin luxury home? If you're searching for homes for sale in Austin, contact experienced and professional Austin real estate agents
The Speed & Neuren Group
today. With years of experience in Austin real estate, Lindsay and her knowledgeable and friendly team will be happy to help you sell your Austin home as well as browse Austin luxury homes for sale.
*Header Image: Alison Jaffe Interior Design