Austin may be known for its barbecue and Tex-Mex cuisine, but it's also home to a diverse array of casual, upscale, and quirky Texan eateries. Whether you're looking to grab a bite at a trendy food truck, sit down for a freshly made plate of comfort food, or end your workday with a drink and a snack there's an Austin restaurant for you.
1. Bao'd Up
Bao'd Up
was founded in 2017 and has gradually grown into five locations throughout Austin. This Asian eatery offers Austin residents a taste of the popular Chinese street food: Bao. Bao buns contain a variety of fillings, both savory and sweet. The Juicy Pork Baozi with shiitake mushrooms and scallions is a popular savory choice, while the Cheesecake Bite with cheesecake custard and sweetened cranberries in a pink bao bun is on the sweeter side of the palette. The menu also contains Guabao (Taiwanese hamburgers), rice or noodle bowls, and bubble teas.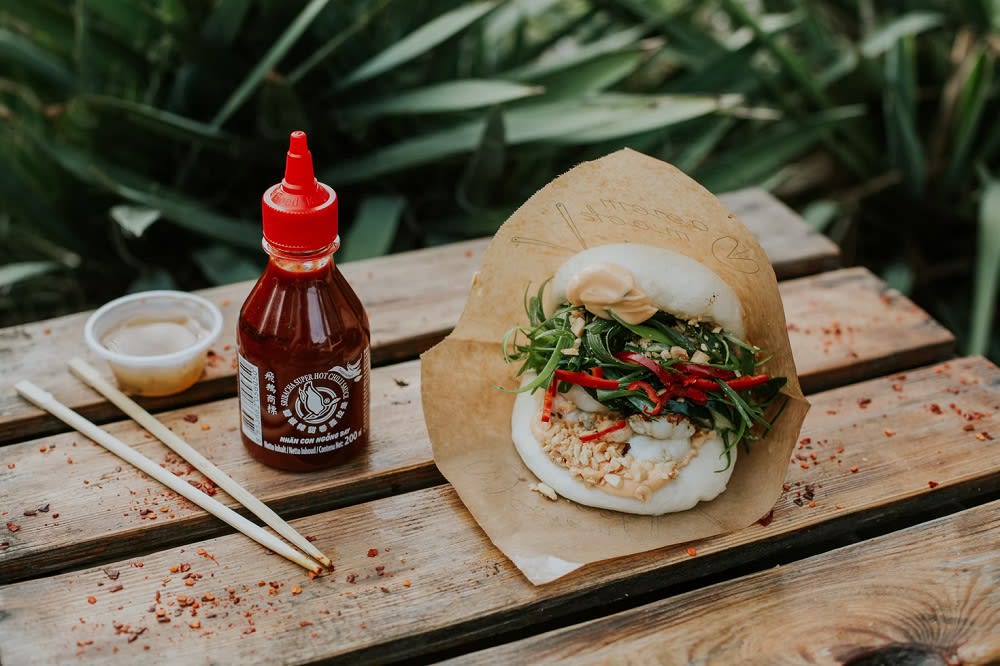 2. Biscuits and Groovy
When you don't have time to sit down at home for the most important meal of the day, stop at one of two
Biscuits and Groovy
locations in Austin for American breakfast eats. The star of many dishes on their menu is their fresh-made buttermilk biscuits offered with your choice of breakfast toppings. Choose a one-biscuit dish like the Bee Gee (with butter and jam) for a quick bite, or load your plate with a three-biscuit dish like the namesake Biscuits and Groovy, topped with gravy, sausage, pepper, and chives.
3. Magnolia Café
Magnolia Café
opened on Lake Austin Boulevard in 1979 and expanded to a new location on South Congress in 1988. There's no shortage of Tex-Mex options in Austin, but Magnolia Café sticks out as a must-visit locale. Dine inside or outside on their patio every day from 8 a.m. to 10 p.m. Many of the menu items offer vegetarian substitutions, such as the Voodoo Blue Cheese Burger, which allows customers to substitute the hamburger patty for a Beyond Meat plant-based patty.
4. Vic and Al's
Southern Louisiana-inspired
Vic and Al's
is Austin's go-to for Cajun cuisine. The menu features a wide selection of plates inspired by the culture and cuisines of Louisiana and the Texas Gulf Coast. While there are years of history behind Vic and Al's, the most recent iteration of this family business puts an emphasis on using local ingredients and community relationships. They keep all their customers in the loop about menu changes, the evolving event calendar, and holiday happenings on the restaurant's Instagram page. You can try their blackened catfish with sassafras rice and a side of gumbo for a taste of hearty, home-cooked Cajun food. The restaurant is open every day of the week from 10 a.m. to 10 p.m.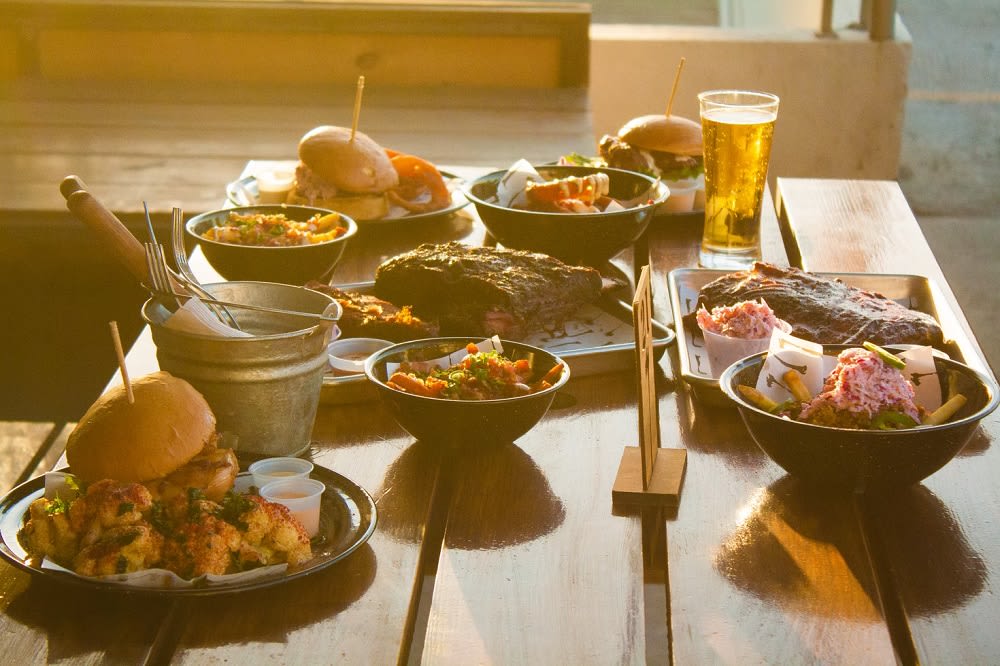 5. Hopfields
Opened in 2011 by founder Bay Anthon, Hopfields made the choice to prepare French cuisine as an ode to Bay's mother-in-law and her cultural upbringing. This buzzy gastropub uses local, farm-fresh produce, using whatever's in season as they craft a rotating selection of entrées and specials. You can visit the Guadalupe Street location every day between 11:00 a.m. and 12:00 a.m. to sample the house specialties like the French Onion Soup, and pair it with your choice from a wide selection of wines.
6. Easy Tiger
Easy Tiger
is Austin's place for fresh bread. The in-house bakery carries a selection of World Hearth bread, pastries, and more. Get a hot, fresh pretzel with their legendary beer cheese for a bite you'll never forget. The Easy Tiger bake shop and beer garden opened its doors in 2011, on the East End of Austin's historic Sixth Street. There are now three locations carrying their artisan bread, a selection of cured meats, and local craft beers at the full bar.
7. Clark's Oyster Bar
Maybe it's the emphasis on fresh and local products, the simple preparation, or the oysters but
Clark's Oyster Bar
is a can't-miss Austin seafood restaurant. Sit indoors or out on the patio to soak up the Texas sunshine. Clark's serves oysters and fish sourced from North American small business harvesters, providing customers with fresh, quality seafood on every plate. Sixteen different oyster offerings, a cold bar, sustainable caviar, and a catch of the day make up a large majority of the menu. Stop by during happy hour for fifty cents off oysters. And don't worry about parking downtown Clark's offers a private parking lot.
8. Stiles Switch BBQ & Brew
You can't visit Austin without trying some famous Texas barbecue.
Stiles Switch BBQ and Brew
gets its name from both the 1800s historic I&GN Railroad stop, Stiles Switch, and the owner Shane Stiles. This old-fashioned eatery combines some of the best Texas barbecues with cold craft beers from local breweries. Stiles Switch BBQ and Brew has cultivated a welcoming atmosphere in both the dining room and patio. Sink your teeth into some tender smoked pork ribs, brisket, turkey, and chicken plates served with your choice of hot sides like Sweet Serrano Fried Brussels Sprouts, or cold sides like potato salad and southern favorite Cucumber Tomato Salad.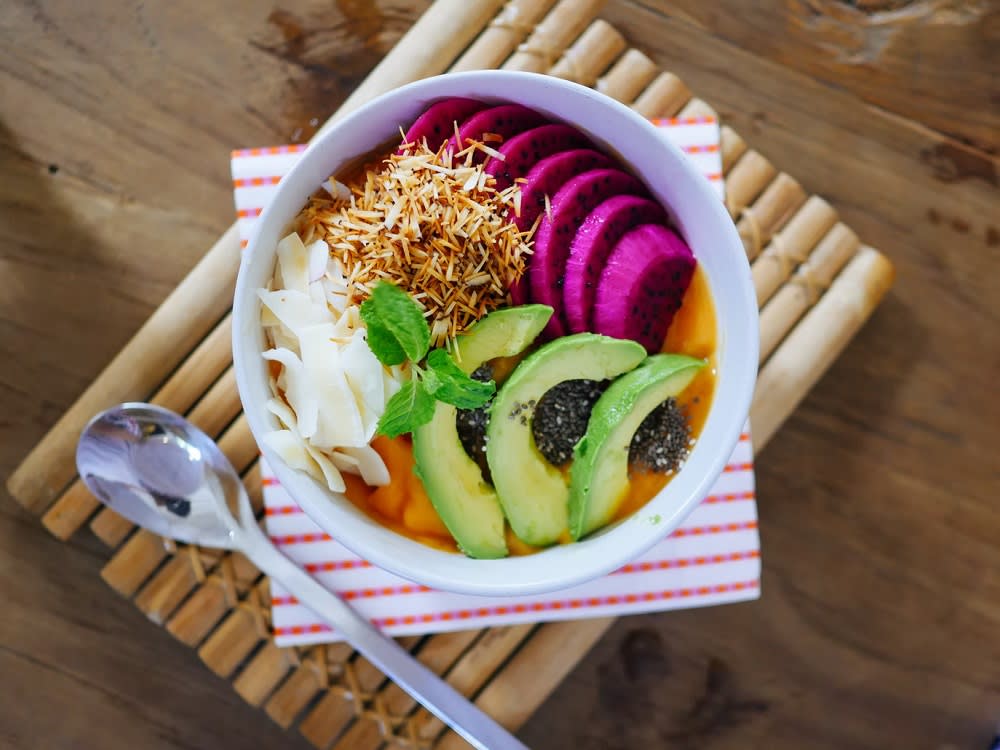 9. True Food Kitchen
True Food Kitchen
offers vegan, vegetarian, and gluten-free options, but you don't have to fully practice these lifestyle choices to love the food. Every pizza, burger, sandwich, entrée, and dessert is packed with fresh ingredients and flavor. There's always a selection of classic menu items on hand, but True Food takes advantage of seasonally ripe fruits and vegetables for their rotating seasonal plates. The chicken sausage pizza with crushed tomato, roasted fennel, and smoked Gouda cheese is a fresh take on a common favorite. Make sure to try it with wine, beer, or one of their handcrafted cocktails. The dragon fruit margarita is a crowd-pleaser.
10. Sweet Ritual
If you're searching for a guilt-free treat, look no further than the creamy, hand-crafted ice creams of
Sweet Ritual
. Opened in 2011, this women-owned business maintains financially, socially, and ecologically sustainable business practices. All in-store and to-go eating materials are compostable, and they source local and organic ingredients whenever possible. Every vegan ice cream on the menu is hand-churned in small, three-gallon batches to give your ice cream the density and creaminess it needs to be the best you've ever tasted. Every flavor at Sweet Ritual is free of dairy, whey, casein, eggs, or insect products. All mix-ins are added by hand, sauces are layered by a person instead of a machine, and ice cream is made with guilt-free, diet-friendly ingredients. Sample an always-available Snakebite Medicine (with praline pecans and bourbon whiskey) or go for a caramelized banana split with four scoops of your choice, three toppings, and a caramelized banana. If you can't make it to their Airport Boulevard location, sample a scoop at select Austin restaurants and grocery stores.
These restaurants are just the tip of the iceberg when it comes to Austin's cuisine—and the only way to find your favorite is to get more familiar with the city. If you're looking to relocate to Austin, be prepared for a plethora of homes and neighborhoods to choose from, and don't be discouraged if you don't know where to start your search.
Contact experienced local realtors at The Speed & Neuren Group
who can help narrow down your Austin real estate choices and find the perfect home for you.