Preparing to put your home on the market can be a daunting task with lots to think about. As you get ready to sell, you'll want to make sure your home looks attractive and functional as well as capture the interest of many potential buyers. Assess how much work your home needs to get it looking its best, and plan a budget so you know how much you'll be able to spend on these renovations. It's important to be sure that you're getting the most money back as possible on your investment, which is commonly known as ROI (Return on Investment).
Home renovations don't need to break the bank; with just a few simple improvements, you can seriously upgrade your home's ROI and attract plenty of interested buyers! Here are some surefire upgrades and improvements that will help maximize your ROI.
Boost Your Curb Appeal
In order to make a great first impression on potential buyers, get your home's exterior looking as appealing as possible. A well-landscaped home sends the message that the home itself is well-maintained, which is what buyers are looking for. Mow your lawn regularly, especially before showings and open houses, and keep all plants watered and pruned. If you have a large property or significant lawn, you may even consider hiring a landscaping service to keep everything looking pristine.
If you have a front porch or patio, give it a good cleaning or sweeping and make any necessary improvements. Remove any clutter or items that have accumulated, like bikes or kids' toys, and add aesthetically pleasing patio furniture where appropriate.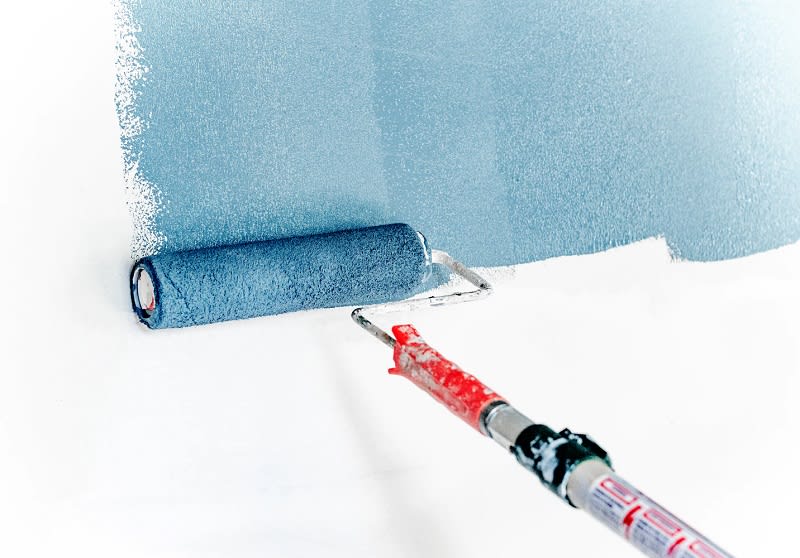 Touch Up the Exterior Paint
One of the best ways to freshen up your home and make it look as good as new is a fresh coat of paint! However, don't feel like you have to completely change the color of your house; this can be strenuous, time-consuming, and depending on where you live, might require you to go to the HOA for permission.
Instead, touch up the existing paint in areas where it's needed most. Maybe there are some spots with flaking or chips, or the front door and trim are looking a little drab—this is easily fixable with a fresh coat of paint. Before painting, if your home looks a bit drab or shows signs of wear and tear, pressure-wash the exterior to get everything as bright and clean as possible. Even though you likely won't want to make any significant paint color changes, a brightly colored front door is often popular with buyers. This helps your home stand out in the crowd but doesn't create a major eyesore for neighbors who may have different color preferences. Recently, front doors in shades like powder blue or buttery yellow are becoming more popular.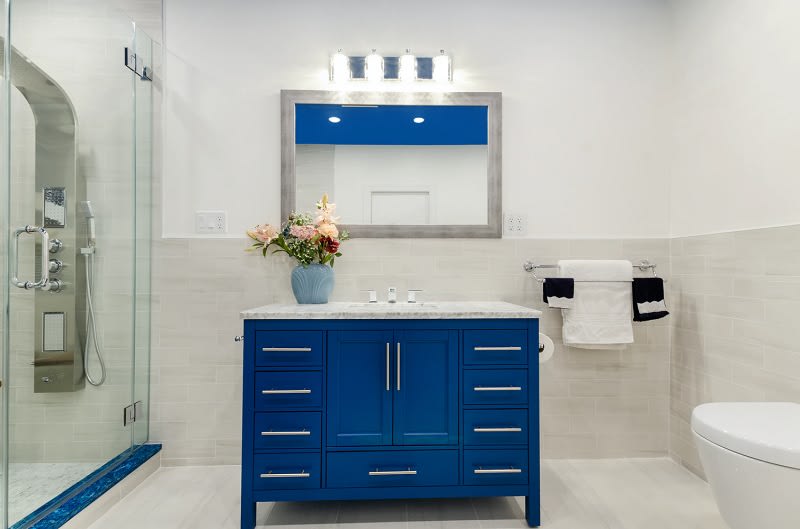 Update Kitchen and Bathroom Fixtures
It's common knowledge among real estate agents that the kitchen and the bathrooms are the most important rooms when showing a house. If you have limits in terms of budget and time, definitely concentrate your efforts on these spaces! One easy home improvement you can do in both the kitchen and bathroom is swapping out fixtures like drawer knobs, pulls, and faucets.
Make sure the entire room features fixtures in a matching style so that nothing looks out of place. If your kitchen feels outdated, changing up the drawer pulls can really revamp its look and make it more modern—all without breaking the bank! Check with your real estate agent or interior designer to find out what the popular styles are in your area, as they tend to vary regionally and change from year to year. Typically, you can't go wrong with matte stainless steel or brushed nickel fixtures that give a room a contemporary vibe, and oil-rubbed bronze fixtures can give the space a timeless, elegant look.
Brighten Up Rooms With Paint
Are some rooms in your home looking a little drab? Consider brightening up the space by painting the walls in light, neutral colors. Creating a blank slate like this will help buyers envision how they would decorate the space themselves and how they would arrange their own furniture.
What colors should you use to get your rooms looking lighter? Real estate agents recommend shades of beige, off-white, or gray; in fact, a recent popular Sherwin-Williams shade is
Agreeable Gray
, a neutral color that also projects some warmth. Some other popular choices include
Cake Batter
or
Wickham Gray
by Benjamin Moore. As you're touching up the paint, you may also consider painting the molding, trim, or windows with a durable satin or gloss finish to get everything looking spruced up.
Change Up Cabinetry Colors
Since the kitchen is arguably the most important room in your home for potential buyers, you'll want to concentrate most of your time, energy, and money here. However, kitchens can quickly look outdated as trends change, and new things come into fashion, so make sure to speak with your real estate agent to get a sense of what other kitchens look like inside homes in your area. You can even browse real estate websites like Zillow or tour open houses nearby to stay aligned with current kitchen trends!
Instead of uniform cabinetry in the kitchen, more and more homeowners are opting for lighter upper cabinetry and dark lower cabinetry. Referred to as "
tuxedo cabinetry
," this style has rapidly grown in popularity in recent years.
Finish the Basement
Depending on the size of your basement and the limits of your budget, finishing your home's basement may seriously be to your advantage in terms of maximizing your ROI! This will also increase your home's liveable square footage, which is major. Some buyers may be looking for potential in-law suites, playrooms for their kids, or extra space for entertaining; in these circumstances, a pleasant and comfortable finished basement is a major bonus.
Before you get started, you'll want to go over your budget and speak to any contractors or decorators you may hire to get an idea of what this project will cost you. In 2021,
it's estimated
that finishing a basement will cost you about $18,400 on average, but if you choose to take on a more extensive and upgraded renovation, this price could go up. Don't feel like you need to make the basement incredibly upscale. Simply framing, drywalling, and waterproofing the space can get it coming together, as well as adding flooring and wiring. The finished basement can serve as a blank canvas that buyers can decorate and use however they see fit.
Go Green
Many buyers nowadays are looking for environmentally friendly solutions and energy-efficient appliances when purchasing a home. Energy Star-rated windows are in major demand right now and are available with great features like triple-pane insulating glass. You can also browse appliances that come with the Energy Star certification; LG makes excellent washers and dryers that buyers will love to see in the laundry room, and there are gorgeous and energy-efficient
refrigerator options
to spruce up your kitchen.
Do a Minor Kitchen or Bathroom Remodel
In order to keep the ever-important kitchen or master bathroom up-to-date, consider doing a minor remodel before listing your home. You won't need to do anything major to your kitchen to maximize the home's ROI; for around $21,000, you should be able to perform tasks like replacing cabinets with an updated style, adding an aesthetically pleasing and colorful backsplash, and bringing in some fabulous stainless steel smart appliances that are all the rage these days.
Mid-range bathroom remodels should run about $20,000, so if your master bathroom is feeling a bit outdated or run-down, you may consider focusing your efforts here. There's no need for any trendy overhauls like heated flooring; instead, replace worn flooring with chic ceramic tiling and update sink and drawer fixtures to something that's aesthetically appealing. A new coat of light paint can work wonders to update a bathroom, and remember that simplicity is key.
If you're getting ready to sell your Austin luxury home or start searching for homes for sale in Austin, contact
The Speed & Neuren Group
today. With years of experience in Austin real estate, Lindsay and her knowledgeable and friendly team will be happy to help you sell your Austin home as well as browse Austin luxury homes for sale.