Picture this: It's a warm summer night (or a cozy fall evening, whatever your imagination would prefer), and your favorite people are gathered around a table in your backyard. The food is amazing, the drinks are flowing, and the conversation is fun. The joy you feel is overwhelming, and you feel proud because you made this happen in your amazing outdoor space that is perfect for creating community.

​​​​​​​That's what outdoor living spaces are supposed to do. They add to the entertaining space of your home, give you a place to relax by yourself or with your family, and they look beautiful.

​​​​​​​Don't let an outdated or sad outdoor space keep you from your dream. Instead, try a few of these tips to transform your outdoor living space into an oasis.
Define Your Areas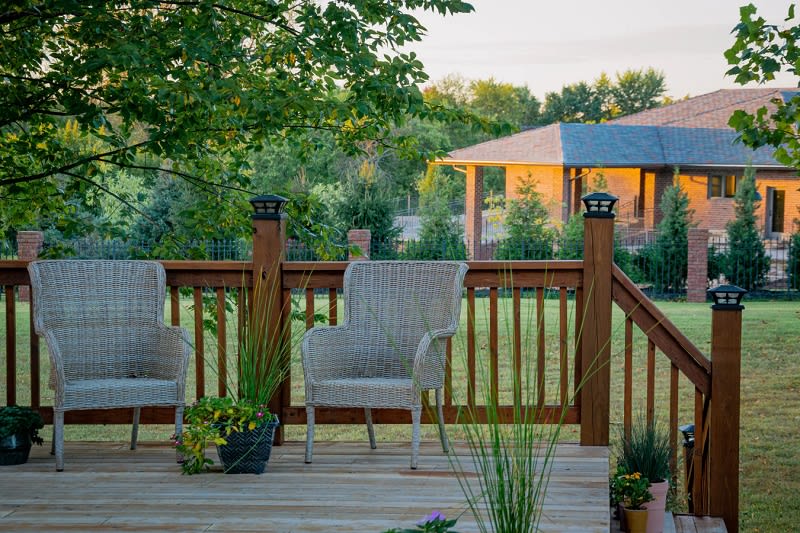 Just like in interior decorating, your outdoor spaces need to be defined. But defined doesn't mean closed off — it could be something as simple as adding a rug to a sitting area to give it a sense of cohesiveness. But if you want something bigger, here are some ways to accomplish this:
Multiple Seating Areas: If you have space in your outdoor area, creating multiple seating areas is a great way to take advantage of it. Having a dining area, a coffee nook, or lounges in the garden can turn your space from a simple backyard into a full-on retreat.


Create Levels: Depending on what you want from your outdoor space, adding vertical elements can make your space appear larger and add drama to certain areas. From lounge areas to play areas, elevating them above the rest of your outdoor space will make them the focal point and give your space more depth.


Add a Pergola: A pergola (or any sort of canopy) is another great way to define an area. Something like this adds a countryside flair that will have you wanting to spend all your time sipping tea and playing lawn games. Pergolas are also great because you can customize them with retractable canvas to keep you shaded on hot afternoons or with gorgeous vines or lights.


Plant an Oasis
Beyond climbing plants on your new pergola, there are many ways to add nature to your living space. Planting trees, like a Texas ash or cedar elm, can serve the dual purpose of being ornamental and providing shade to your house and lawn.

​​​​​​​You could use a flower bed to add color and define your space. Or, if you want a more contained space for things to grow, you could add a greenhouse. If you have a green thumb, this is especially useful to grow flowers to use for decoration and veggies to spruce up your dinner parties. And when people compliment you on either of them, just point proudly to the greenhouse and tell them you grew them yourself!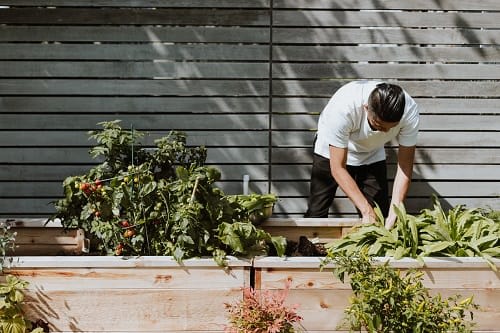 Make a Gathering Space
Let's go back to that dinner party we were picturing, with all your favorite people gathered around a long table. This is the time to create that. Find a long table and chairs — anything from a rustic farmhouse piece to a sleek glass and metal table, depending on your style. You can make this more eclectic by not matching your chairs, or you can keep it all seamlessly stylish with a set (like this Pimenta Dining Set). Style this space with cushions on chairs, cozy blankets for fall nights, and by stringing lights above it or hanging lanterns from the trees nearby.
Build an Outdoor Kitchen
Now that you have an eating area outside, another great addition would be an outdoor cooking area. A grill or a dry bar would be a great addition to keep the food and drinks close at hand and so that no one has to miss anything. This is also the perfect space to really take it up a notch and add a wood-fired pizza oven to make your house the go-to gathering space.
Redo Your Patio
Do you have a patio space already? Time to update it. If you're down for a bigger project, you can change out your current patio for something more stylish like flagstone pavers. If your patio is more cement slab than cute space, you could paint it to spruce it up. Give it a marble checkerboard vibe, or paint it a dark neutral color and let your decor provide the pops of color. If you're doing it yourself, just remember to power wash before and seal it after so it stays looking good for a long time.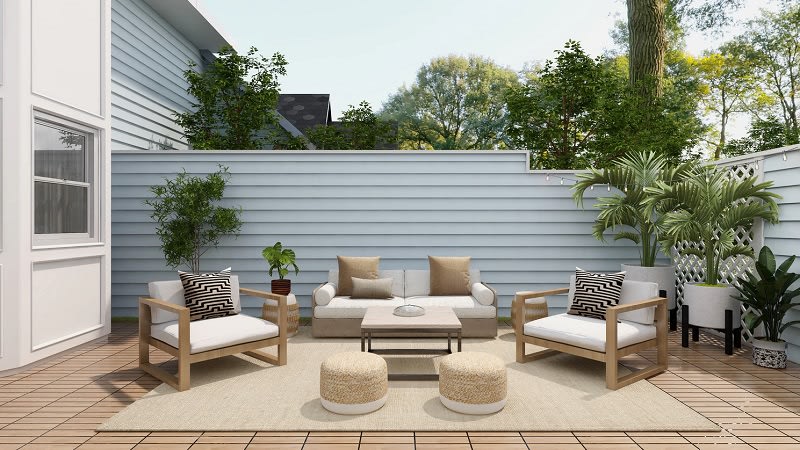 Add a Fire Pit
Keeping warm on cold nights, sharing ghost stories on a camping trip, or having a romantic dinner by a fireplace — the open flame has been the ideal gathering spot throughout history. Having a fire pit in your backyard is a wonderful space to gather your friends with a glass of wine or let your kids invite their friends over to make s'mores.

You have your pick of styles when it comes to fire pits. The perks of using a fire glass fire pit instead of a wood-burning fire pit are enormous. Fire glass lasts virtually forever, withstands harsh weather, and eliminates the clean-up that comes with a wood-burning pit. You also can pick a variety of glass colors to match your style. However, if you want a wood-burning fire pit, there are options to make it even more modern and easy to use, such as this Luxeve Smokeless Fire Pit.
Make Space to Soak
Why just soak in your bathtub when you have a whole backyard that you could use? Add to your oasis with a hot tub, sauna, or outdoor bathtub. If you want to invite friends over, a hot tub is probably the way to go. Especially in the fall, having a place to stay warm while still enjoying some fresh air is wonderful. But if you're more of a solo soaker, you could transform a corner of your yard into an outdoor bath. For privacy, add walls on some/all sides or section it off with plants while still keeping it open to the sky.
Install a Fountain
There is nothing quite like sitting outside and listening to the gentle trickle of a fountain to add some peace to your life. Adding a water feature like a fountain can really elevate your peace of mind and make your living space feel like a botanical garden or park. The fountain can be as small or as large as you have room for, and getting one that reuses its water or uses rainwater can help save the environment.
Let There Be Light
Mood is all about lighting. Add string lights above your table, wind them through the eaves of your pergola or add lanterns to your trees or your porch. You can also add ambiance by uplighting your trees or adding softly lit globes to your garden. It's all about the balance of making your light enough to see by but keeping it moody enough to make your space welcoming and soft.
Update Your Fences
You could update every part of your outdoor living space, but it would still be overshadowed if the view you're looking at is subpar. This includes your fence around your backyard. Replacing it or updating it to fit the style of your new living space will bring a cohesive feel. If it's a wall you can't replace or update, you could add fake wall panels like a living wall or sleek wooden panels.
Pick Durable Options
This tip is less about style and more about longevity. It would be disappointing to put all that effort into creating a new space only to have it ruined by weather or faded by the sun. Make sure that you're taking into account what your furniture, fire pit, and outdoor kitchen will have to endure. Often, it's a better deal in the long run to spend a little more money now to make sure it'll last a long time.
In Conclusion
There are a lot of tips on this list, and doing all of them will probably result in an overcrowded space that doesn't feel very oasis-like (unless you have a huge outdoor space, then, by all means, do all of these!). Revamping your outdoor living space is all about your personal style, how you want to utilize it, and the scale of the project you want to take on. Going into this with a list of what you want and a vision of how you'll accomplish it will serve you well in the long run.

If you're moving to Austin, let The Speed & Neuren Group help. With so many homes for sale in Austin, it's nice to have assistance finding the gems that fit what you want from your home and lifestyle. Contact Us today to get started.